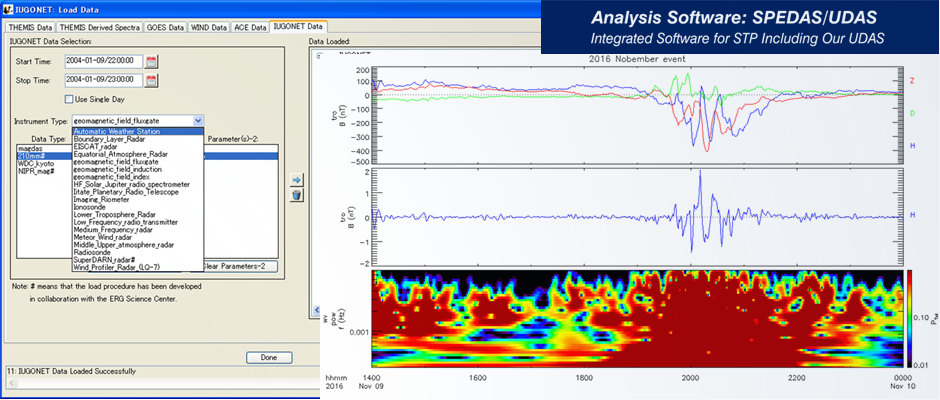 Data Analysis Software: SPEDAS
SPEDAS (Space Physics Environment Data Analysis Software) is a set of IDL (Interactive Data Language) libraries that provides an integrated analysis platform for Solar-Terrestrial Physics.
SPEDAS has useful features as follows:
Automatic data download without specifying the data's location

Data analysis without regard to the file format of the data

Parallel display of different types of data from many satellite and ground-based missions, including IUGONET.

Utilization of various analysis functions equipped in SPEDAS (e.g., frequency analysis, filtering)

Output into an ASCII file or image files (e.g., PNG, JPEG, GIF)

GUI available for those new to IDL and SPEDAS

SPEDAS-GUI executable on the IDL Virtual Machine without a paid IDL license.
About SPEDAS (SPEDAS web site)
UDAS
IUGONET has provided a plug-in software, UDAS (iUgonet Data Analysis Software), for SPEDAS.
UDAS is included as a SPEDAS standard plug-in. Once you install SPEDAS, UDAS will also be installed.
To update UDAS part, please download it by clicking links below. Release Note
Latest Version
UDAS s3.01.1 is a plug-in software for SPEDAS 3.1.
SPEDAS 3.1 includes the GUI tool of "UDAS egg" developed by the IUGONET project, which allows users to load their own ASCII-format files interactively.
Furthermore, new plugins from the ICON and Parker Solar Probe missions were added to SPEDAS and many plugins from ERG (Arase), MMS, DSCOVR, GOES, SECS, Kaguya, etc. were updated.

UDAS egg
UDAS egg (UDAS Easy Guide to Generate your load routines) provides users with the templates for IDL procedures that can load your own data files into SPEDAS/IDL. According to the document, the users can easily create the load procedure for their own data by modifying the template procedure (about 10 lines identified in this routine). It supports Windows, Linux, and Macintosh.
It's easy to use!
Prepare your PC in which IDL 8.0 or higher and SPEDAS 2.00 or higher (3.00 is recommended) were installed.

Download UDAS egg to your PC and copy it to the directory you want.

Modify the template step by step according to the manual.

Compile and run the modified procedure to load and plot your data.

Further, you can analyze the loaded data using many useful functions included in the SPEDAS.
Notice
SPEDAS and UDAS have been tested on IDL 6.3 - 8.3.

When you use the IUGONET data, please check the data policy for each data set. The data use policy will be displayed in the console, when you load the data on IDL. It is also possible to search the data policy by the IUGONET metadata database.

Some routines are dependent on ERG Plug-in (ERG Science Center: https://ergsc.isee.nagoya-u.ac.jp/index.shtml.en).
Please also install ERG-SC plugin if you manually update UDAS.
Acknowledgements
We acknowledge the cooperation of the THEMIS Science Support Team in developing UDAS and the SPEDAS executable file on the IDL VM.

Our software has been developed in collaboration with ERG Science Center.